I just heard about this kid the other day so I wanted to share with you guys. He's only a Sophomore in highschool but could already hold his own in practice on a NBA roster.
I know this is an off-topic but mods, if you could at least leave it here for a couple days so it can get some exposure. It's local and nation-wide news.
Magic, Michael, LeBron … Emoni Bates? Meet the 15-Year-Old Next in Line
He's a typical high school sophomore and a once-in-a-generation talent. He's the pride of Ypsilanti, Mich., and the future of the NBA. Not even old enough to drive and likely to be a straight-to-the-NBA No. 1 pick, Emoni Bates is both a product of his era and way ahead of his time.
https://www.si.com/.image/c_limit%2Ccs_srgb%2Cq_auto:good%2Cw_1240/MTY3OTUyNDc5MzcwMDkzOTUy/emoni-bates-cover.webp
UPDATED:
OCT 29, 2019
ORIGINAL:
OCT 29, 2019
He should not be on the cover of Sports Illustrated . You should not be reading about him. He is slipping out of his bi-level house in a Ypsilanti, Mich., subdivision in the morning darkness, wearing a hoodie and holding a fork and a plate of waffles and eggs, just a teenager who snagged a few extra minutes of sleep. He climbs into the passenger seat of his father's Ford Expedition, because he isn't old enough to drive himself to school yet. It's another mundane day in the life of a sophomore high school basketball player, except this one has a goal: "To try to be the best player—ever."
Magic, Michael, LeBron . . . Emoni? Well, kids are supposed to dream. Don't hold it against him. But one assistant at a college superpower, when asked about Emoni Bates, says simply, "He is the best player I've ever seen. You have to see it to believe it." A college head coach laughs and agrees.
In basketball, every great player evokes memories of another. Emoni is 6' 9" with long arms, minimalist biceps and a shooting stroke that's purer than a country sunset, so people inevitably compare him to Kevin Durant. This sounds crazy. It is not crazy. An NBA scouting director calls the Durant analogy "obvious . . . the shooting is remarkable. He has a chance to be really special." One coach who recruited KD calls Emoni "the same level shooter" but "a much better ballhandler" than Durant at that age.
Fifteen years old. This isn't fair. Let him be a kid. But he can't be. Emoni noticed last year that no matter where he went in Ypsilanti, heads turned. By the end of his freshman season at Lincoln High, the school gym was overflowing for games, and that was before he hit two buzzer beaters in postseason games and led the team to the Division I state championship. Hundreds of fans were sitting on the floor. The hottest ticket in town had caused a fire hazard. This year, Lincoln will play at least five games in the 8,800-seat arena at nearby Eastern Michigan.
It is all too much, too soon but . . . what if it isn't? What if he is the rare teenager who knows what he wants, and knows he can handle it? Emoni Bates has a chance to be a generational player for reasons beyond his skill or athleticism. Several people in the sport use two words when describing him: Kobe mentality .
Emoni has always had that. When he was five, he participated in layup lines at a pro-am game; after tipoff, little Emoni was pissed he wasn't allowed to play. By the time he entered middle school he had a collegian's work ethic. He takes incidental bumps as intentional, and if they are intentional, Emoni goes full E-mamba. Last year a kid forgot to box him out on a free throw. Big mistake. Emoni dunked his own miss. The kid shoved him to the ground in frustration. Bates popped up, eyes raging and fist cocked. He didn't throw a punch, but he sure wasn't going to just walk away.
He is quiet around strangers, goofy with friends—and an assassin with a ball in his hands. At one recent workout, his first after taking two weeks off on his father E.J.'s orders, he made more threes than he missed, but he was still disappointed. He cursed himself repeatedly. He kicked a ball into the stands. E.J. tried to calm him down, but Emoni yelled with disgust, "I shouldn't be f------ missing!" But the outbursts did not derail him; they helped him refocus. He finished by making at least 30 straight high school threes. Then he sat down next to a visitor and said he was sorry he didn't have a better day.
Put him on any Division I college team and he could start. And yet he has only five scholarship offers. Most big schools aren't recruiting him because they assume that by 2022, the NBA collective bargaining agreement will allow high schoolers to enter the league, and Emoni will leave Lincoln to be the No. 1 pick.
One NBA front-office rep says that on Emoni's best day he could hold his own at an NBA practice right now: "It's nuts." The Durant comparison is "very realistic." But there are days when he looks 15 . . . which, of course he is.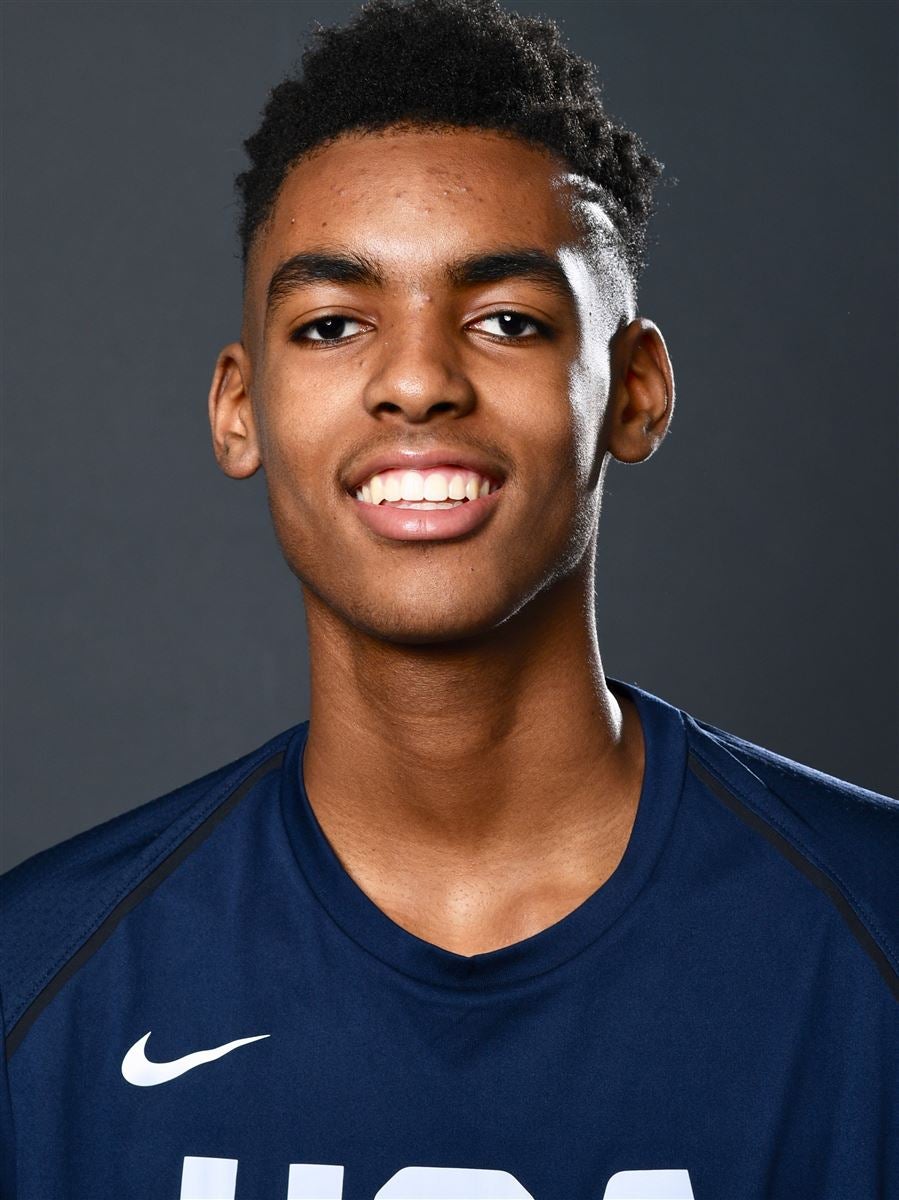 Emoni Bates
POSSF
HEIGHT6-8
WEIGHT200
Prospect Info
HIGH SCHOOLLincoln
HOME TOWNYpsilanti, MI
CLASS2022
247Sports Composite®
1.0000i
NATL.
1 ](https://247sports.com/Season/2022-Basketball/CompositeRecruitRankings/?InstitutionGroup=HighSchool)History
SF
1 ](https://247sports.com/Season/2022-Basketball/CompositeRecruitRankings/?InstitutionGroup=HighSchool&Position=SF)
MI
1 ](https://247sports.com/Season/2022-Basketball/CompositeRecruitRankings/?InstitutionGroup=HighSchool&State=MI)