Might be someone to keep an eye on in the later rounds as a ROLB. He has the size that MP likes at 6'3-250lbs. He's an impressive specimen who was a 4-star recruit for USC before transferring to play with Lovie Smith at Illinois.
It looks like he mostly played on the line at DE. Not sure what he could do in space.
9 sacks last season.
I think with the right coaching, this kid could be a sleeper.
Bad news, QBs: Sackmaster Oluwole Betiku Jr. is still learning
ByCHRIS HUMMER Sep 20, 2019
The laugh of Oluwole Betiku Jr. . is a deep baritone. Even through the phone it feels as if Betiku is pulling you into his joke. Illinois head coach Lovie Smith may have labeled his 6-foot-3, 250-pound defensive end as a first-one-off-the-bus presence, but it's hard to view this guitar-playing, always-smiling college graduate as intimidating – at least from the perspective of someone who doesn't have to block him on Saturdays. Junípero Serra High School (CA) head coach Scott Altenberg described his former pupil's personality as "joyful."
Not long ago, however, Betiku would board USC's team bus or plane knowing exactly what was to come: One snap, two snaps, maybe none. The former five-star recruit knew he wouldn't play much.
"I just remember hating gameday," Betiku told 247Sports.
The No. 15 prospect in the 2016 247Sports Composite, Betiku played three years for the Trojans and totaled two career tackles; a hip injury cost Betiku his entire junior season. Betiku would go hard at practice each week knowing full well snaps would not come his way Saturday. He loved his team and thrived in Los Angeles but not playing weighed on Betiku. He'd go home and cue up Youtube clips of Oklahoma State's Barry Sanders, looking for solace and hope in a player who waited his turn in college and exploded when his time came.
Seeking his opportunity, Betiku grad transferred to Illinois this offseason. It took him one afternoon against Akron (6 tackles, 1.5 sacks) to eclipse his career totals in Los Angeles. Three games into the season, Betiku leads the country with six sacks and 7.5 tackles for loss.
"I've dreamt about days like this," Betiku said. "Finally saying it happened … it's just great."
It'd be easy to end the story here: A highly-touted prospect keeps grinding before eventually breaking out elsewhere. But there's too much in Betiku's journey to tell it so quickly. This is a tale of risks, work, adversity and how a few small changes can change the course of a career. It's also a story of evaluation, projection and expectations. Perhaps most of all, it's a story that says it's never too late for one single player.
"Where Oluwole is unique is he took a little bit of time to get going," 247Sports Director of Scouting Barton Simmons said. "I'd say we probably all thought he was a miss. But I think in retrospect we have to be more patient with him because of the reality of the situation."
---
During Serra's first game of the 2014 season, Betiku's junior year, Betiku ran in pursuit of a Lakewood High School ball carrier. The play slipped past him on the edge, so Betiku released with the full intent of making a stop. Betiku did the most natural thing possible when he arrived at the ball carrier: Grabbed him by the facemask and threw him to the ground.
The whistle sounded and a flag flew. Confused, Betiku turned to Altenberg.
"It's like a handle," Betiku said. "Why would they have it there if I'm not supposed to grab it?"
Having relocated to the United States from Nigeria a year earlier, Betiku was a true football neophyte.
The story of how Betiku reached the United States is well told at this point. He grew up in Lagos, the former Nigerian capital and home to 20-million-plus people. Betiku's family moved around a lot during his youth, and Betiku hoped to use sports as an avenue to support his family financially. When Betiku heard about a sports camp that could potentially help send him to the United States, he took a 16-hour bus ride to compete, according to ESPN. Betiku, who'd never played football to that point, impressed enough that former Maryland linebacker Ricardo Dickerson helped set Betiku up with former NFL All-Pro linebacker LaVar Arrington as a guardian. Betiku moved to Maryland initially and later California when Arrington took a job with the NFL Network.
So domineering was Betiku physically that he racked up six tackles that first game – the correct way this time. He finished his junior year with 59 tackles, 24 tackles for loss and 11.5 sacks. By the time Betiku's senior year began he held offers from almost every powerhouse program in the country.
This is not to say Betiku had made some football transformation. He threatened offensive tackles off the edge with his freakish blend of size, strength and explosiveness. But there were occasions, like the first time Betiku saw a screen pass, he'd have no idea what occurred. He just stopped when the offensive linemen disengaged. That's a big reason why Altenberg put Betiku at defensive end, a position that allowed him to focus on just winning his matchup and hitting the ball carrier. How his job fit within the overall scheme remained a work in progress.
"You've got to remember when you teach him that and he understands that's only what he does," Altenberg. "All the other stuff that's happening is like he's on Mars."
Betiku described his football knowledge when he arrived at USC as: "Get in the backfield and get sacks." Afterward you hear that throaty laugh, followed shortly by an admission: "We had a playbook in high school, but I don't think I ever remembered it."
The adjustment (and success) wouldn't be so rapid on the college level.
Betiku entered USC further behind almost every other FBS player in the country from a knowledge perspective. He'd sit behind great players, too. Betiku backed up Porter Gustin at rush end his freshman year before switching to SAM linebacker as a sophomore where he worked behind future second-round pick Uchenna Nwosu. Both positions, particularly SAM, carry far more responsibility than Betiku had in high school.
Illinois defensive line coach Austin Clark, who served as a GA at USC from 2016-17, said Betiku didn't know what a key was. He also, among other things, didn't understand how to play the run or use his hands in pass rush situations.
"It was a big learning curve," Betiku said.
Betiku put in the work. His weight room strength is off the charts, and Betiku, who graduated in three years with a degree in International Relations, started to slowly pick up football intricacies. And Betiku's motor in practice borders on legendary. "I wish I could have three of him," Clark said.
The former five-star just couldn't seem to get on the field, even in practice situations. Betiku said the majority of USC's reps went to first-team players to help install what was a complicated week-to-week scheme under defensive coordinator Clancy Pendergast (Clay Helton asked Pendergrast to simplify his scheme this offseason). So Betiku requested to be moved to the scout team where he could work on his pass rush technique in live situations.
Betiku knew game snaps weren't imminent without the reps during the week. That's what created those long bus and plane rides on gameday. He reveled in time with his teammates. But a lack of playing time challenged a player with concrete long-term goals. To stay positive, Betiku would go back to his room and watch NFL success stories of perseverance on a loop.
"You can't drown in that negativity," Betiku said. "You've got to watch all those stories of great players. You relate to their story and you relate to their pain. They'd all tell you to keep working. That was the mentality. Keep working and wait for your opportunity.
After graduating this spring, the transfer portal afforded Betiku the chance to pursue an opportunity elsewhere. Illinois, a place Betiku didn't know existed six years prior, proved a natural landing spot. He had a prior relationship with Clark, and Clark had a plan to help spark Betiku's career.
First thing first: Put Betiku's hand back in the dirt.
"One of the first things was getting the kid in the three-point stance," Clark said. "That was the deal for him. When we had the opportunity that was one of our big selling points. Just allowing him to play fast."
Clark said almost all of the plays Betiku made in high school came at defensive end. Altenberg agrees. Watching from afar and talking to Betiku when he came home, Altenberg used to wonder why USC insisted on asking Betiku to play multiple roles. He had told USC that Betiku only knew what Serra's coaches taught him and college would be "10,000 times more."
Betiku had no context of how things worked within a defense. Playing linebacker amplified that lack of football understanding on a much bigger stage.
"It was like being dropped in a high school geometry class with second grade math and that's all he's got," Altenberg said. "Basically, you put a parking brake on him."
Illinois took the governor off the luxury build that is Betiku's frame.
Clark said he didn't want Betiku to worry about much besides his positional technique and what he's required to do each play. Betiku said he appreciates Clark's willingness to explain things in a one-in-one environment. Clark will pause film reviews to explain why a play is designed that way and how Betiku's contributions – be it holding the edge or his stunt on a rush – fit within the scheme.
Asked how he'd describe Clark's teaching style, Betiku said "it's just investment." It doesn't hurt that Clark often hears a knock at his door and knows it's Betiku asking to watch just a bit more film that day. Dividends are starting to roll in from that offseason of work. Despite arriving in the summer, Betiku quickly established himself as a starter along Illinois' defensive front. Through two weeks Betiku created pressures on 16.3 percent of his snaps, per PFF College, by far the top rate in the country.
"Right now, the game has slowed down for me a little bit," Betiku said.
---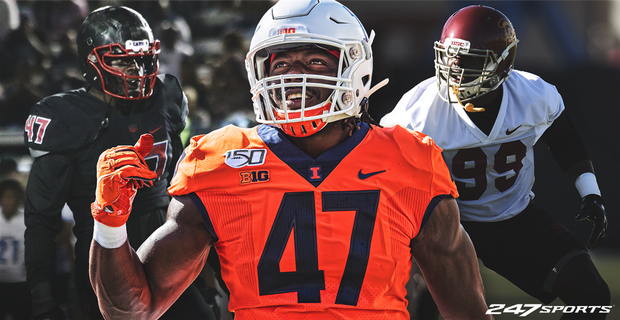 (Photo: Getty)
The laugh booms again after Betiku bemoans how often quarterbacks run away from him these days.
It's probably his reputation. Betiku is nowhere close to a complete football product. But few are better in the FBS right now when it comes to rushing the passer. The explosive first step, outsized strength and high-yielding motor that made Betiku a five-star prospect is starting to translate at the college level. It just took a little longer than some may have expected.
"If he keeps up this production, he'll absolutely have a chance to be an early-round draft pick," Simmons said. "I do think he's someone we can learn from, from an evaluation standpoint, assuming instincts and an innate understanding of how to play football is just going to come.
"I'll be very, very fascinated by his development moving forward."
There's an important thing to remember about that future. This is Year 6 of Betiku's football education. In many American youth football situations, Year 6 would place a player midway through high school development. For Betiku, it means he's finally starting to understand how his portion of the playbook relates to the rest of the defense. There's still a learning curve, but it's getting less steep every day.
"I don't think I've played my best football yet," Betiku said. "I'm still learning the game too."
Then he laughed.